Atlas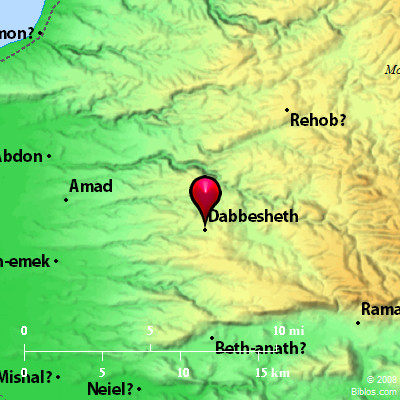 ---
Maps Created using Biblemapper 3.0
Additional data from OpenBible.info
---
You are free to use up to 50 Biblos coprighted maps (small or large) for your website or presentation. Please credit Biblos.com.
Occurrences
Joshua 19:11
Their border went up westward, even to Maralah, and reached to Dabbesheth. It reached to the brook that is before Jokneam.
Encyclopedia
DABBESHETH
dab'-e-sheth (dabbesheth; Dabasthai; the King James Version Dabbasheth, dab'a-sheth): A town on the western boundary of Zebulun (Joshua 19:11). It is probably identical with the modern Dabsheh, a ruined site to the East of Acre.
Strong's Hebrew
H1708: Dabbesheth
"hump," a place in Zebulun