Atlas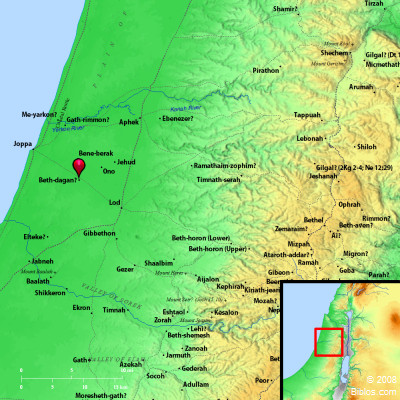 ---
Maps Created using Biblemapper 3.0
Additional data from OpenBible.info
---
You are free to use up to 50 Biblos coprighted maps (small or large) for your website or presentation. Please credit Biblos.com.
Occurrences
Joshua 15:41
Gederoth, Beth Dagon, Naamah, and Makkedah; sixteen cities with their villages.
Joshua 19:27 It turned toward the sunrise to Beth Dagon, and reached to Zebulun, and to the valley of Iphtah El northward to Beth Emek and Neiel. It went out to Cabul on the left hand,
Encyclopedia
BETH-DAGON
beth-da'-gon (bethdaghon; Bethdagon):

(1) A town in the Shephelah of Judah named with Gederoth, Naamah, and Makkedah (Joshua 15:41). It may be represented by the modern Beit Dijan, about 6 miles Southeast of Jaffa. This however is a modern site, and not in the Shephelah. Nearly 2 miles to the south is Khirbet Dajan, a Roman site. The connection in which it occurs leads us to expect a position farther Southeast

(2) A city on the border of Asher (Joshua 19:27) which Conder would identify with Tell D'auk, near the mouth of the Belus, in the plan of Acre.

The name seems to have been of frequent occurrence. There is a Beit Dejan about 6 miles East of Nablus, and Josephus speaks of a fortress called Dagon above Jericho (Ant., XII, viii, 1; BJ, I, ii, 3). This would seem to indicate a widespread worship of Dagon. But the name may mean "house of corn."

W. Ewing
---
BETH-DA'GON, at Beit Dejan, 29 ms. n.w. from Jerusalem. The name oecurs only in Josh. 15:41.
Strong's Hebrew
H1016: Beth-dagon
"house of Dagon," two places in Palestine