Atlas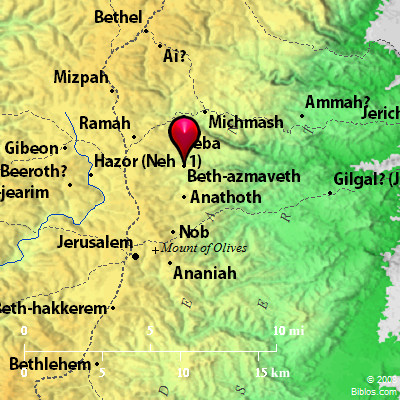 ---
Maps Created using Biblemapper 3.0
Additional data from OpenBible.info
---
You are free to use up to 50 Biblos coprighted maps (small or large) for your website or presentation. Please credit Biblos.com.
Occurrences
Ezra 2:24
The children of Azmaveth, forty-two.
Nehemiah 12:29 also from Beth Gilgal, and out of the fields of Geba and Azmaveth: for the singers had built them villages around Jerusalem.
Encyclopedia
AZMAVETH (2)
az-ma'-veth (`azmaweth; Asmoth or Azmoth, "strong one of death"; Ezra 2:24): Is probably identical with el-Chizma, a village a little to the North of `Anata (Anathoth). It corresponds to Beth-azmaveth (Nehemiah 7:28).