Atlas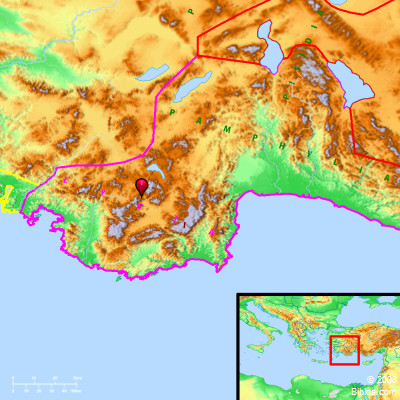 ---
Maps Created using Biblemapper 3.0
Additional data from OpenBible.info
---
You are free to use up to 50 Biblos coprighted maps (small or large) for your website or presentation. Please credit Biblos.com.
Occurrences
Acts 27:5
When we had sailed across the sea which is off Cilicia and Pamphylia, we came to Myra, a city of Lycia.
Encyclopedia
LYCIA
lish'-i-a (Lukia): An ancient country forming the southeast portion of Asia Minor. The surface of Lycia is exceedingly rugged, and its lofty mountains rise almost directly from the sea. Over them several trade routes or passes lead from the coast to the interior. Down the mountain sides rush many small rivers, of which the Xanthus is the chief. The history of Lycia, like that of the neighboring countries, forms a part of the history of Asia Minor. Successively it was in the possession of the Persians, of Alexander the Great, of the Seleucid kings and of the Ptolemies. In 188 B.C. it fell into the hands of the Romans, who gave it to the island of Rhodes; 20 years later, because of its loyalty to Rome, it became free and independent (1 Maccabees 15:23). In 53 A.D., during the reign of the emperor Claudius, it became a Roman province, and in 74 A.D. it was united with Pamphylia to form a double province over which a Roman governor presided.

At different times during the history of Lycia, there were about 100 places which issued coins of their own. Pliny speaks of 70 cities which had existed there, but in his age there were but 36. Of these, Patara, Myra and Phaselis are of interest to Bible students. From the coast city of Patara, according to Acts 21, Paul took ship for Phoenicia. It was a place celebrated not only as a trading-center, and a port of entry to the interior, but as the seat of the oracle of Apollo, and the birthplace of Nicholas. Myra, though over 2 miles from the coast, possessed a harbor, and was also a trading-center. Here, according to Acts 27:5-38, Paul found a grain ship from Alexandria. For some time Myra was the capital of the Roman province; to Christendom it is especially known as the home of Nicholas, who was its bishop and the patron saint of the sailors along the coast. Phaselis, on the border of Pamphylia, was also the home of the bishop.

Lycia was a stopping-place, rather than the scene of the active work of Paul, and therefore it figures little in the earliest history of Christianity. For a long time the people strongly opposed the introduction of a strange religion, and in 312 A.D. they even petitioned the Roman emperor Maximin against it. A portion of the petition has been discovered at Arykander.

E. J. Banks
---
LY'CIA, a district in Asia Minor, next w. of Pamphylia and on the Mediterranean. Map No. 7.
Strong's Greek
G3073: Lukia
Lycia, a region of Asia Minor